Ladies and gents, I'm back!!!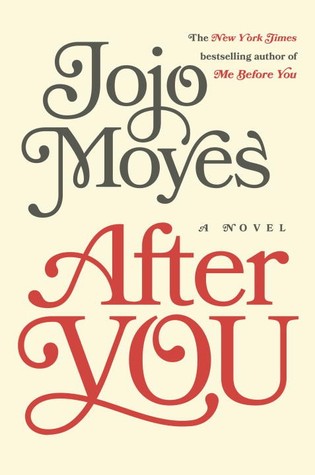 Title: After You
Author: Jojo Moyes
Series: Me Before You (#2)
Publisher: Pamela Dorman Books
Publication Date: September 2015
Genre(s): Romance, Drama, Adult fiction
Opening Line:
The big man at the end of the bar is sweating.
*If you haven't yet read Me Before You and do not want any spoilers, I'd suggest not reading this book review. Also, I spoil some stuff from this book as well, so if you haven't read this one either, read at your own discretion.
The Synopsis
It's been three years since Will Traynor's death. Three years since Louisa Clark lost the man who had given her hope, possibility, and love. At first, she spent her days traveling Europe, living her life like Will had asked of her. But eventually, reality set in. Lou was lonely. She was sad and had no place in Paris, and eventually wound up in London, living alone and working in an airport bar. She can't let go of Will, and she can't help but feel guilty for failing him. But after a serious accident, Lou finds herself living a very different kind of life. A young girl appears on Lou's doorstep claiming to be someone she cannot possibly be, throwing Lou into a series of dramatic circumstances. She even finds herself captivated by a new man, but fears falling in love will only open her up to more heartbreak. Will's death was not the end of Lou's story — it was only the beginning.
The Plot
Buuuuuut if I'm being honest, it should have been the end of Lou's story. I know I reference The Fault in Our Stars quite often, but I'm going to shamelessly do so again. Remember how desperate Hazel was for a sequel to An Imperial Affliction? She craved to know what became of her beloved characters. Even when the author said he'd never write a sequel, Hazel begged him to make something up for her, to tell her what he imagined happened to those characters, but he wouldn't even do that for her. The story was over. And I really feel like Moyes should have left Lou's story alone. Of course fans were wondering what happened to her. Of course they wanted to know more, more, more! Everybody always wants the story to go on. I adored Me Before You and I fell in love with Lou and Will. Their story was as beautiful as it was heartbreaking. And I liked to imagine what happened to Lou after Will's death, but I certainly didn't want a 300+ page book telling me what happened. This book did not need a sequel. I did not want my perfect, depressing picture of Will and Lou to be destroyed with all this nonsense. First of all, wow. She falls off a roof. And I was so terrified that she was going to become paralyzed because that would be utterly ridiculous. Luckily, she wasn't. And then BAM, we find out Will had a secret daughter. Really?! I hate that. Did not like that at all. Did not want to believe that. Because yes, it ruins my pretty little perfect story in my head. It complicated things and made everything a lot more depressing. Oh, and then we have Sam, who of course almost dies and then I'm worried that he is going to be paralyzed and once again, thank you Moyes for not throwing that in there. I don't know. I'm being so brutal. It really wasn't that bad of a book. I read it out of curiosity. I did not like many of the aspects of the story. I thought it was pretty slow, a little boring, and quite unnecessary. I understand why Moyes wrote it — to show that there is life after grief, to fulfill her fans wishes of a sequel, to continue Lou's glorious story, yadda yadda. I get it. I just didn't want it. But I read it.
The Characters
I missed Will. Through the whole book I just missed Will. Lou was not the same without him. Sometimes I found myself struggling to picture Lou as Lou. At times I forgot this was a sequel to a great book and just thought I was reading a random mediocre book with a random female character. I get it — the grief changed her. She wasn't herself. There were moments, though, where her great personality and wit shined through, and it made me miss Will even more. Lilly was okay. I was mostly annoyed with her throughout the entire book because she could have handled things a lot differently, but then again she's a sixteen-year-old and they fuck up a lot, so I understood, but I wasn't a fan. It was like she went about literally everything in the wrong way. And then there's Sam. I legitimately pictured him as Denny Duquette throughout the entire book (any Grey's Anatomy fans? Hm? Hmm?) I liked him. He was a good love interest, I suppose. I enjoyed his witty banter with Lou, although it just wasn't the same as Will and Lou's banter. Nevertheless, I liked him, and I'm glad Lou found someone to help her feel good again. I guess. I don't know. I might just pretend this sequel doesn't exist.
The Writing
The book sort of had the same feel as Me Before You, but it just didn't have the same charm and emotion. I felt myself get a little teary here and there, but it dissipated as quickly as it came. The book was quite slow and I just didn't connect to any of the characters very much, even with Lou. But Moyes is a great writer and I still love her, even though she gave in and wrote this book. I actually feel bad for not liking it so much. I wanted to like it. I really did. I mean, it was decent, it helped me get back into reading after such a long hiatus, but it was not the sequel I was hoping for. …I wasn't hoping for any sequel, tbh. So basically, read it or don't, it doesn't really matter. It's just what Moyes planned for Lou after Will. That doesn't have to be what you imagined for her.
My Rating
Favorite Quote(s): So here is the thing about being involved in a catastrophic, life-changing event. You think it's just the catastrophic, life-changing event that you're going to have to deal with: the flashbacks, the sleepless nights, the endless running back over events in your head, asking yourself if you had done the right thing, said the things you should have said, whether you could have changed things had you done them even a degree differently. … But what I now discovered is that it wasn't just me. I had become that person.