Title: Miss Peregrine's Home for Peculiar Children
Motion Picture Rating: PG-13
Release Date: September 2016
Director: Tim Burton
Production Co.: Twentieth Century Fox
Runtime: 127 min
I saw this film a week ago and needed some time to think about it before reviewing it. I really enjoyed the book (so much so that I stayed up all night reading it) and had high hopes for the film. Though I liked the film, I almost wish I hadn't read the book… If you haven't read my book review for Miss Peregrine, check it out here. And though many of you already know the storyline, I'm going to tell you anyway.
The Synopsis
Jacob Portman is coming to terms with the fact that his life is boring, uneventful, and unextraordinary. He works a crappy family-business job and doesn't really get along with his parents too well. Jacob's only friend is his crazy grandfather, and when something terrible happens to him, Jacob is thrown into a world unimaginable. His parents think he's insane, but what Jacob discovers on a mysterious island near Wales will forever change his ordinary life. Perhaps Jacob's grandfather wasn't as crazy as everybody thought — and perhaps Jacob isn't, either.
The Casting
The casting for this film was fantastic with a wonderful mix of popular and lesser-known actors. Let's begin with the one and only Miss Peregrine, played by the lovely Eva Green. Green does a magnificent job and is absolutely stunning. In the novel, Miss Peregrine's appearance seems very underwhelming compared to her personality, so I think Green was a perfect choice to spice up her looks. Green is gorgeous and portrays Miss Peregrine's peculiarity in just the right way. I especially loved the way she talked. Very excited to see more of her character in future films.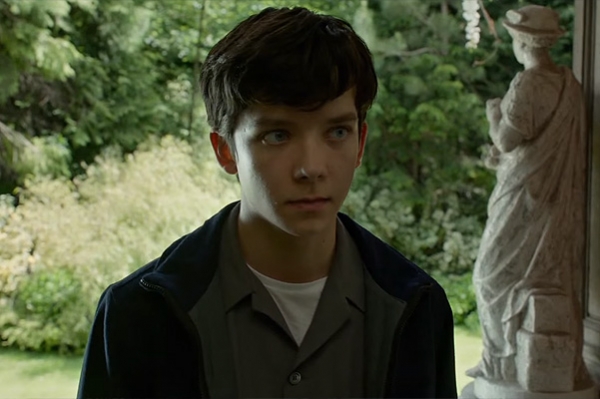 Asa Butterfield plays the main character, Jacob Portman. Butterfield has been very popular lately, scoring the lead role in various films (Hugo, Ender's Game, The Space Between Us). This is the first film I've seen him in, though I'm beyond excited to see him in The Space Between Us. I was a little weary of his acting in the beginning, but it progressed throughout the film. He's exactly how I pictured Jacob — small, awkward, and peculiar.
Ella Purnell plays Jacob's love interested, Emma Bloom. I actually loved her acting and thought she was brilliant. She has very interesting facial features which distracted me a bit, but I think it's the blonde hair — she looks a lot more natural with her natural hair color (brunette). I hope this film kicks-off her acting career because I love her.
Samuel L. Jackson, one of my favorite actors of all time, played Mr. Baron, the villain. Wights are creepy, and Samuel L. Jackson is hilarious, so this made for an interesting combination. Although Baron wasn't even technically a character in the book, I think he was casted excellently. But then again, Samuel L. Jackson can play any character fantastically. He looked a little like Frederick Douglass, which was hilarious to me. He can certainly play a great villain.
The rest of the cast was just as spectacular. I really liked Chris O'Dowd, who played Jacob's father, Franklin Portman. I definitely didn't like Franklin in the book, and O'Dowd is exactly how I pictured him. He did a good job portraying a whiny father. Finlay MacMillan was great as well; he played Enoch O'Connor. The actor hadn't played any major roles before Miss Peregrine, but I liked him. And who can forget veteran actors Terence Stamp and Dame Judi Dench, whose performances were just fantastic. And even though the hollowgasts were CGI, just want to give them a shout-out for being really fucking creepy.
Fidelity
Warning: This section will discuss the film's faithfulness to the novel and could contain spoilers. If you haven't read the book, I would definitely suggest scrolling past. If you haven't seen the film yet and you want absolutely no information on the events in the film, I would scroll past. Basically: MAJOR SPOILERS AHEAD.
As my favorite professor always says, we should not compare the book to the movie because they are separate entities and therefore we cannot base our opinions on fidelity; we can say it was a bad movie, but we cannot say it was a bad movie because it was different from the book. I wholeheartedly agree with her, but I am only human, therefore I still compare the two and still enjoy studying the differences between them.
The film started off strong even though there were minor changes that I, obviously, noticed. For instance, in the film, Jacob does not have a best friend. When he goes to check on his grandfather in the beginning of the film, his boss from the drugstore goes with him. In the book, his only friend, Ricky Pickering, goes with him and shows up once more later in the story. I didn't mind this cut — his friend was such a minor unimportant character that it didn't bug me. Anyway, I liked the beginning of the film involving Jacob's grandfather, especially the backstory. I wasn't a big fan of the change in Dr. Golan's gender. I thought it was cool that, in the book, the wight was various people from Jacob's past, and that he took the form of Dr. Golan for the end half of the novel. In the film, they created an entirely new character, Mr. Baron, as the wight. It wasn't super important to the story but it mattered to me.
I must, of course, talk about the character-swap, though. This was one of my biggest issues with the film. In the book, Emma is Jacob's love interest, and she is described as a "spark,"a pyrokinetic who's able to manipulate fire. For the film, her abilities are swapped (and altered) with Olive, who is "lighter than air" and can levitate. So, in the film, Olive is the pyro and wears gloves so that she doesn't burn anyone; Emma is the one who can levitate, but she can also control air, like when she shows the shipwreck to Jacob and saves them towards the end of the story using the ship. I'm not 100% why they swapped the abilities, and though I'm sure Burton had a reason, I didn't like it. It's hard for me to accept changes to major characters or plots. And speaking of major changes to plots, what the hell did they do, because they certainly didn't stay true to the book's plot. In fact, it was almost like watching an entirely different movie, and I have no idea how (or if) they're going to make a sequel (though I have not yet read Hollow City). About halfway through the film, the plotline takes a 180. Rather than having Dr. Golan kidnap Miss Peregrine and Miss Avocet, Mr. Baron (who is, essentially, Dr. Golan but is only referred to as Mr. Baron from now on in the film), follows Jacob into the time loop and takes him hostage, using him to capture Miss Peregrine. In the process, Miss Avocet is killed by a wight. In the book, the children then follow Dr. Golan to the lighthouse to rescue Peregrine and Avocet; in the film, the children fight off a hollowgast and follow Mr. Baron into a different time loop, where he has gathered with other wights to try and finish what they started. In the book, Jacob shoots Dr. Golan and rescues Miss Peregrine while Miss Avocet is taken by other wights; in the film, Jacob outsmarts Mr. Baron and a hollowgast ends up killing him while the other children take care of the other wights.
The book ends with Miss Peregrine unable to turn back into human form, so Jacob says goodbye to his father and re-enters the time loop (before it closes) to set off on an adventure to find the rest of the wights. This is where the film confuses me… Jacob lets the time loop close and remains in his world. After all the wights are dead, and Miss Avocet is dead, and Miss Peregrine is back in human form, Jacob chooses to stay in his world because his grandfather is alive again. Which I think is ridiculous because that does not make any sense. Anyway. His grandfather is alive, but he misses Emma (his grandfather's ex……) so he travels all over the world to find the exact time loop that Emma and the gang resides in. And the film ends with the children going off on some unnamed adventure. So how is there going to be a sequel? Because the endings were so completely different and I'm not sure what they're going to do. If anyone understands why these changes were made, please explain them to me, because I quite enjoyed the book's ending plotline. What is going on???
Novel or Film?
Definitely the book. Not that I didn't enjoy the film, because I did, and I think the film was great, but I definitely think they were separate entities. If I hadn't read the book, I would not have had any problems with the film. I just do not understand why they changed the plot so drastically. Though I loved seeing the characters come to life, I just found it too be very different and not as interesting. Even letting go of my prejudice with fidelity, I preferred the plot in the book. It's as simple as that.
My Rating