**I started writing this yesterday, I swear. But then things happened, I wasn't able to blog anymore, and now I'm finishing this on Sunday. Sorry. Just pretend I posted it yesterday.
---
While perusing Facebook today at work (I work at my university library — we don't do much), I came across this article about book clubs. The author of the article writes about her various experiences trying to start book clubs throughout her life. After all her efforts, she never manages to be successful.
"Maybe, after all this time, I've finally grown to view my 'failure' at not being in a book club as something that I'm not necessarily proud of, but I'm not ashamed of either."
It broke my heart and got me thinking about my own life, and my own desire to start/join a book club. I've been a reader ever since I was a kid. I remember going to the library every week to pick out more books, and always participating in those fun library summer reading challenges. As I grew older, I read more and more — it was an escape from my own life. I had a rough time during my high school years and I credit books for being one of the only things keeping me sane. I enjoyed being someone else, even for just a short while, and living their life instead of mine.
Since coming to college, things have gotten a little better. I get to talk about books in all my literature classes, and I've made a couple friends who also like to read. Last year, I found out the majority of my English professors are in a book club together. Being a part of a book club has always been a lifelong dream, and finding out about my professors was so inspiring and exciting.
"Having your own book club seemed like a mark of adulthood, a rite of passage that I felt, at 23, like I was ready for."
Looking back, I should have started a book club here on campus my first year. I'll be graduating in two weeks, so there's not much I can do at this point. I have dreams that when I get a big-kid job and live somewhere other than southern Ohio, I'll meet like-minded bookworms who will start a book club with me, or invite me to their own book clubs. So we'll get together once a month, discuss literature, drink wine, eat potluck food — ya know, the dream. But then I snap back to reality and I worry that maybe I'll never find bookish people, and even if I do, maybe starting a book club is an impossible task or that they wouldn't invite me to their own book clubs.
"I could never ask to be invited to join a book club; it's like asking someone point-blank if you can be friends. And who does that? Sad, desperate, lonely people."
I'm literally and actually terrified that I'll never be a part of a book club. Is that ridiculous? I know a lot of people have online book clubs, but that just doesn't do it for me. I want a real life, actual, legit book club. I want to drink wine with a bunch of book nerds and argue about literature. I want it so bad. I guess I just have to wait and see. I wonder if people my age actually have/want book clubs. I feel like people associate them with middle-aged women who are stay-at-home moms and knit sweaters in their spare time. There's nothing wrong with that — I'd be happy to join a bunch of sweater-knitting women to talk about books! I just want to be a part of a book club. Is that too much to ask for?
So, as you can see, this article got me thinking. My entire shift, I was thinking about various books on my tbr that I'd nominate to be read if I were a part of a book club. I know some people nominate books they've already read, just to share them with other people. I think I would mostly choose books from my tbr, that way it's a new experience for myself as well as (hopefully) most of the other people in the club. So I made a list of 10 books on my tbr that I'd nominate for a book club reading list. My tbr is comprised of about 550 books, so believe me when I say it took a lot of time. I know I'll never finish my tbr list, and that I will continue adding to it until I die, but it's fun to pretend I'll get to all of them. And it's fun to pretend I actually have a book club and people to read them with me.
---
10 Books I'd Pick for Book Club
01) Room by Emma Donoghue
It came out seven years ago and there's already been a film adaptation of it. Pretty sure a lot of people have already read it. Unfortunately, I have not, and I would probably torture my book club by making them read it probably again. I actually own a copy since one of my professors donated it to my honor society's book sale and I snatched it real quick. She said she had to read it for her own book club and was not a fan. I hope I enjoy it more than she did.
02) Books, Blogs, & Reality by Ryan Ringbloom
I'd pick this one for the sheer irony of it. I don't know much about it, but I do know it's about women, relationships, and book blogging. A perfect book for a book blogger and/or book clubber, right? Even if it sucks, it'll still probably generate discussion, and that's what really matters. Although I hate the term "chick-lit" or "women's fiction," because I don't think we need to put literature in gender squares, because categorizing literature by gender is ludicrous, this book definitely screams "female book club." However, I don't think book clubs have to only contain women, and I think there are men who can enjoy books like this, too.
03) Allison Hewitt Is Trapped by Madeleine Roux
If you know me, you know I enjoy books, blogging, and zombies, in that order. This series seems to be about a women trapped in a bookstore during the zombie apocalypse, blogging about her experiences. Sounds cool, right? I added it to my tbr shelf back during my obsessive zombie phase, but I think it, like the book above, would be an ironic choice to read for book club. Basically, my book club will probably hate me.
04) Mosquitoland by David Arnold
This YA novel has been on my radar for a while now. I've read many positive reviews of it, and a lot of people include it on their lists of favorite cover art. Travel/journey stories are always fun and interesting, and I think this one would be cool to read with a book club. If you can't already tell, I need a book club of people who like various genres and are okay with reading books they may hate me for selecting. I am a supporter of reading bad books. Sorry.
05) Maybe in Another Life by Taylor Jenkins Reid
I don't remember where I came across this book, but it sounds right up my alley. The story sounds fun — a woman revisits her hometown and catches up with her highschool best friend and highschool boyfriend. Each offer her a ride home from a bar — but who should she go with? Well, we get to find out what happens if she makes either decision! It's two stories in one. I think that's pretty cool. And it seems like a stereotypical book club book. I like it.
06) Black-Eyed Susans by Julia Heaberlin
The blurb on Goodreads says this mystery-thriller is for fans of Gillian Flynn, which I am. It does sound like a Gillian Flynn novel, honestly. But the synopsis is convincing enough that I'd probably read it. I enjoy mystery-thrillers and I'm never able to find enough of them that are decent. Maybe book club could help with that.
07) This is Where it Ends by Marieke Nijkamp
I have wanted to read this since forever ago. Okay, not really — it's only been out for a year, but it feels like forever. School shootings are tough subjects, but prevalent in news headlines these days. I enjoy reading YA takes on these terrible events. This one has pretty positive praise. I want to see what it's all about. The only other book I've read like this was The Hate List. I'm curious to find out about this story and I think it'd generate great discussion.
08) The Hundred-Year-Old Man Who Climbed Out of the Window and Disappeared by Jonas Jonasson
Come on, guys. Read the Goodreads summary. How could you not want to read this book? Mixed reviews, but whatever, who really reads reviews, anyway? Ha ha. Just kidding. Reviewing books is something I take seriously. I care about reviews, I do, but if I want to read a book, I'm going to read it despite what reviews say. This book seems really wacky and weird, but endearing. I want to make other people read it with me. Sorry, imaginary book club.
09) Dark Matter by Blake Crouch
I've been hearing about this one everywhere. I was a little iffy at first, but it in fact wound up on my tbr list. It sounds kind of fascinating. Yes?
–
–
–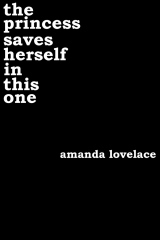 10) The Princess Saves Herself in This One by Amanda Lovelace
My imaginary book club reading list wouldn't be complete without poetry, now would it? This one is quite controversial, though, and I think that's why I'd choose it. Some say it's not poetry, just
words
displayed
like
this.
Others say it's a beautiful feminist manifesto of poetry. I'd like to see what all the hoopla is about. One review compares the poems to tumblr quotes. Ouch.
There are many, many, many more books on my tbr list, and many more that I'd recommend to my imaginary (hopefully real, future) book club. Until then, though, I'll just make lists on my blog, because why not?
What are your guys' thoughts on book clubs? Is anyone actually a part of one? Have you read any of these books, with your book club or just on your own? What'd you think? Let me know in the comments! I'd love to hear some thoughts on this stuff. Again, sorry it's a day late, but better late then never, right? Happy reading, everyone!