Top Ten Tuesday is an original feature/weekly meme created by The Broke and the Bookish. Each week they will post a new Top Ten list  that one of the bloggers at The Broke and the Bookish will answer. Everyone is welcome to join. All they ask is that you link back to The Broke and the Bookish on your own Top Ten Tuesday post AND add your name to the Linky widget so that everyone can check out other bloggers lists!
This Week
Ten Book with Fall/Autumn Covers/Themes (If the cover scrams fall to you, or the books give off a feeling of being Fallish)
October is one of my favorite months, and fall is my favorite season, and books are my favorite in general, so this is gonna be a fun one!
---
10 Books with Autumnal Covers
1) To Kill a Mockingbird — Harper Lee
This is my current read, same cover and all. I like the cover a lot and it just gives me a fallish feel. I don't know why, but that dark red and light pink really make me think of fall, and with the gorgeous sky and the tree…I dunno, must I really explain?
2) Turtles All the Way Down — John Green
This one comes out TOMORROW *internal screaming* and I couldn't be happier!! That bright orange jumps out at me like the trees this season.
3) Before I Fall — Lauren Oliver
The grass she's lying in looks brownish, and that tends to make me think of fall/bordering winter. Also, "fall" is in the title, ha ha…
4) There's Someone in Your House — Stephanie Perkins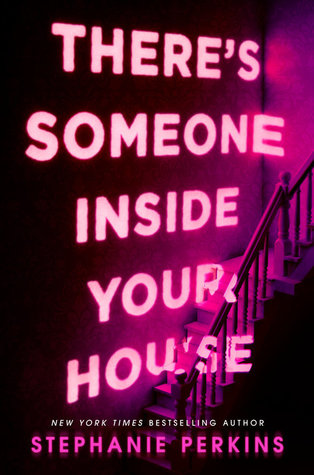 There is no fall without Halloween, and though I haven't yet gotten my hands on this book, the cover is gorgeous. I haven't read Perkins (unlike many of you), so really, this is one of those "I"m gonna read it because of the pretty cover" books. It screams Halloween and, in turn, fall. And who doesn't love a good horror/thriller in the fall?
5) Three Dark Crowns — Kendare Blake
Though this book severely let me down, I did enjoy the minimalistic cover. The crowns are beautiful and a nice contrast against the black background. This one, for me, blends the whole Halloween thing with the fall colors.
6) The Graveyard Book — Neil Gaiman
Graveyards are synonymous with Halloween. Plus, I've read (and cherished) this book and the entire thing gives me a fall/Halloween feel. One of my favorite books and writers! Not a big fan of this cover, but I do get a fallish vibe.
7) Speak — Laurie Halse Anderson
This one speaks (ha) for itself — the haunting eyes behind a tree with brown leaves has autumn written all over it. Not a big fan of the book itself, but the cover is pretty.
8) The Weight of Feathers — Anna-Marie McLemore
Still haven't gotten around to reading this, but I really want to! The cover initially drew me in and truly makes me think of fall. The barren tree branches, the feathers falling like leaves, the colors — ugh, I love it.
9) November 9 — Colleen Hoover
I think I'm the last person alive who still hasn't read a Colleen Hoover novel yet. I want to change that, I do!! The title (obviously) reminds me of fall, but so do the colors and the pieces of paper (??) falling like leaves. So pretty.
10) The Big Crunch — Pete Hautman
So this one has all four seasons on it, but fall stands out the most to me. It's the first square and is the same color as the text. It's also my favorite of the four seasons. I like this novel a lot and had to include it in a post about seasons because it's all about the seasons!
---
Thanks for checking out my Top Ten Tuesday! If you've got your own this week, please comment with the link and I'll check it out! If you would rather just comment your own top ten, go ahead! And let me know if any of these are also on your list 🙂