Top Ten Tuesday was created by The Broke and the Bookish in June of 2010 and was moved to That Artsy Reader Girl in January of 2018. It was born of a love of lists, a love of books, and a desire to bring bookish friends together. Each week, she will post a new Top Ten list topic for everyone to weigh-in on. Link back to That Artsy Reader Girl on your own Top Ten Tuesday post AND add your name to the Linky widget so that everyone can check out other bloggers' lists!
This Week
Popular Books that Lived Up to the Hype
---
10 Hyped-Up Books That Are Actually Worth a Read
(1) Ready Player One — Ernest Cline
RPO received a lot of hype with all the nerds of both today and the 80s. When I heard about it, I had to read it. I have a deep passion for sci-fi and the premise of this novel was more than enough to satisfy the giant nerd that I am. I love all things movies and video games. If you love the 80s, you'll die for this book. I have a lot of love for this story.
(2) Before I Fall — Lauren Oliver
I read this novel waaaaay after it received all its hype. Like, I read it right before the movie came out. I really thought I was going to hate it, because it's about this rude, popular teenager who is everything I am not. And I couldn't understand why readers (who are mostly people like me and not people like the main character Samantha) liked this story so much. But I gave it a chance and I don't regret it. I hated the character throughout most of the novel, but it was definitely an interesting character arc to follow, and Sam did redeem herself (slightly) by the end of the novel.
(3) Miss Peregrine's Home for Peculiar Children — Random Riggs
I'm not sure if the book world hyped this or just my friend in high school, but I do know there was a lot of hype for it to live up to. I actually stayed up all night reading the majority of this book in order to go see the film the day it was released. Book 1 was great, and the entire trilogy made for a unique and fun series! (However, I heard there's more additions to the series coming out, and I think it should stop now, thank you, sorry)
(4) All the Light We Cannot See — Anthony Doerr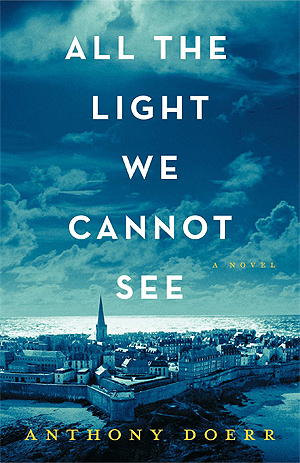 I almost didn't buy this book—almost. It was one of those books I passed at the bookstore and read the synopsis, put it back, picked it back up, put it back down, and so forth until finally purchasing it. I am so glad I did. I'd heard about it through the Goodreads Choice Awards and obviously through its Pulitzer Prize. It's easily the best book I read all 2016 and remains today one of my favorites.
(5) Me Before You — Jojo Moyes
I don't normally read strict romance novels. I made an exception with Me Before You due to the hype. It made me cry. It made my heart feel all warm and fuzzy. It made me read the sequel (big mistake). It's exactly what I needed.
(6) The Girl on the Train — Paula Hawkins
This book received a lot of hype after the fame of Gone Girl. It was one of those books marketed as, "If you liked Gone Girl, you'll love this." I get into mystery/thriller moods, and this one (though I didn't like it as much as Gone Girl, because Gillian Flynn is my faveeee) satisfied that mood. Something about murder just gets me goin' sometimes.
(7) The Martian — Andy Weir
THIS BOOK, GUYS, CHANGED MY LIFE. Another almost-passed-it-up-at-the-bookstore book. But how could I have let it go? Amazing title. Stunning cover art. Sarcastic genius of a main character. Heart-pounding action. Tons of scientific knowledge I'll only dream of acquiring. Obviously, one of my favorites and obviously lived up to its hype.
(8) Gone Girl — Gillian Flynn
I hope you knew this would show up. I mentioned it 2 books up. Like I said, Gillian Flynn is amazing. I'd consider her an auto-buy author. Though I liked Dark Places more, there wasn't as much hype for it as there was for Gone Girl. It was my first Flynn novel and got me into her other works. Definitely a good read for a night when you want a suspenseful, puzzling mystery.
(9) If I Stay — Gayle Forman
I'm just now noticing most of the books on this list are YA? Anyway…
I love this book, and may even love the movie more. I read it long after it was published, but still it found a place in my heart. The sequel…not necessary. Like Me Before You.
(10) The Fault in Our Stars — John Green
C'mon, you guys knew this would show up. It's only my favorite book ever, having read it at least 13 times. This book received so much hype but still was a book I almost didn't buy. John Green will always be, forever now, an auto-buy author. This book lived past its hype for me. Love, love, love it.
---
So there it is. Feel free to post your links or if you haven't made a post, just post your list in the comments!