Five Feet Apart
Motion Picture Rating: PG-13
Release Date: 2019
Director: Justin Baldoni
Runtime: 116 mins.
Adapted From: Five Feet Apart
Stella is a typical teenager—she goes to school, hangs out with friends, and makes YouTube videos. But she also has Cystic Fibrosis, a disease she's determined to not let kill her. All she has to do is make her way up the transplant list and get herself a new lung. That gives her an extra 5 years. She needs those years.
Will has seen the world, but only from the window of hospital rooms. He, too, has CF, but has a much smaller chance of getting new lungs and a much higher chance of dying thanks to his B. cepacia. After numerous experimental trial test runs and failures, Will has pretty much given up on life.
Though they don't fall in love at first sight, the two develop a relationship over the course of their stay at the same hospital. The only problem? Any physical contact could kill them both. The rule? Six feet apart at all times.
---
I'll be honest with you guys: I saw the trailer for this and thought it looked dumb. I thought it was just a desperate attempt to capitalize on the success of fellow sick-lit adaptation The Fault in Our Stars. But then I gave it a chance—I read the book, fell in love with it, and ended up seeing the film about a week ago. It's not just a wannabe TFIOS. It's actually an incredible story and brings light to a disease many are unaware of.
It's also perhaps the best adaptation I've seen since TFIOS five years ago. Without reading the book beforehand, you miss some general stuff, some subtleties hinted at in the film, but I think non-readers will absolutely love this film anyway. It's unique, interesting, and an all-around emotional experience. The book Five Feet Apart was quite an emotional story, and the film totally amplifies all those feelings tenfold. Seriously. Poe dying is an absolute killer in the film. But perhaps the most heartbreaking, soul-crushing, tear-inducing moment is the very end, when Will is leaving Stella. The film made me cry harder at this part than the book did. Wow. It's visually stunning, and with one of my favorite songs ("Anchor"—Novo Amor) playing in the background, it absolutely rips your heart in two.
As for fidelity, the film stays almost 100% true to the book. There's no silly, unnecessary deviations from the book. Of course some minor things are left out or played down (especially Will's mom's involvement in the story), but overall, a fantastic and true adaptation. The only major change was the ending. It ended after Will left Stella. There was no chance meeting at the airport later in life. Rather, it ended with a voice over from Stella, telling the audience that you must hold on to the people you love, and to touch them if you can because she couldn't touch him. *ugly cries*
Dare I say I enjoyed the film more than the book?..
The casting may have something to do with this opinion of mine. They did a phenomenal job casting the characters.
Haley Lu Richardson plays Stella and was absolutely BRILLIANT.
She makes the film, guys. She is so perfect for this role. I was blown away and really hope to see her in more films. I recognized her from her role in Split, a film in which I also enjoyed her performance.
Will was played by none other than Cole Sprouse. *faint echo of girls everywhere, screaming*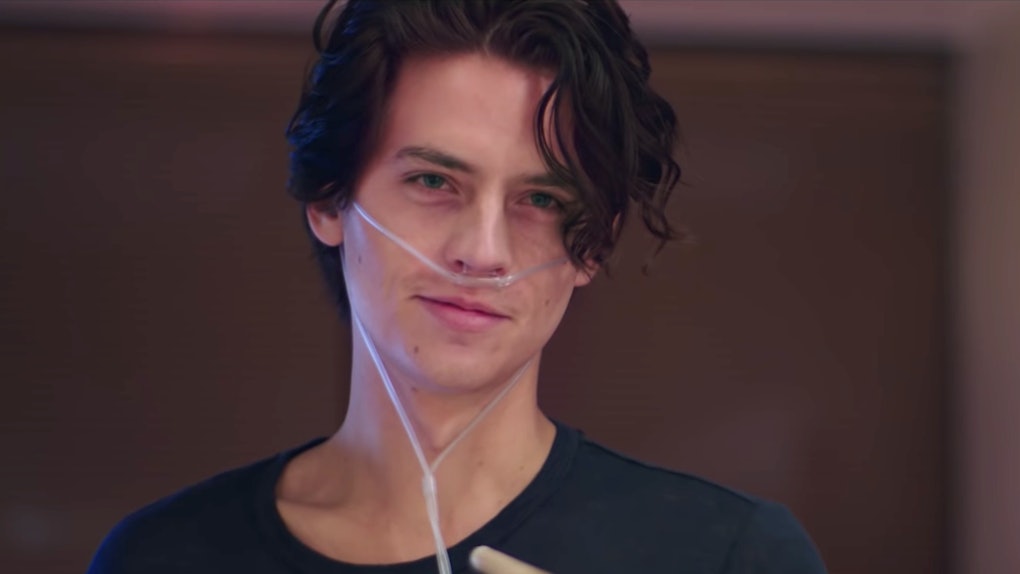 I thought Sprouse embodied Will pretty well. Brooding. Moody. Kind of a jerk sometimes. I mean, the boy plays Jughead Jones in Riverdale for god's sake, we all know he'd be the perfect Will. And the two—Sprouse and Richardson—really had great chemistry. That pool scene……….. that raw emotion almost killed me.
But we can't forget Poe!!
Beautiful, innocent, perfect Poe. I miss him. Moisés Arias was a magnificent choice for Poe. If you're a loser millennial like me, you may remember him from Hannah Montana back in the day. He's had plenty of minor roles since then, but I think he really stood out and shined in this film.
These three killed it. They really did.
I was so impressed with this film and really urge you to watch it, especially if you've read the book because it was honestly…maybe…better?
Bring tissues. You'll thank me later.