It's finally O C T O B E R !
Which means…
Autumn leaves
Pumpkin patches
Pumpkin spice
…and spooky books!
If you couldn't tell, autumn is my favorite season, and I'm so happy the weather here in Ohio is finally reflecting the time of year. If you're like me, you enjoy reading scary books all year round. But Halloween—and October in general—provides us a great excuse to read even more creepy stories, and who would want to waste that opportunity?
I want to share my all-time favorite spooky stories I've read so far in my life. Whether you're a seasonal reader gearing up for Halloween, or someone who enjoys scary stories all year round, this list is for you. You've probably already read some of them if you're a fan of the genre/mood, but I hope I can give you a wide enough variety that you may find some new terrifying tales.
All summaries provided by Goodreads.com.
13 Spooky Books to Creep You Out
Libby Day was just seven years old when her older brother massacred her family while she hid in a cupboard. Her evidence helped put him away. Ever since then she has been drifting, surviving for over 20 years on the proceeds of the 'Libby Day fund'. But now the money is running out and Libby is desperate. When she is offered $500 to do a guest appearance, she feels she has to accept. But this is no ordinary gathering. The Kill Club is a group of true-crime obsessives who share information on notorious murders, and they think her brother Ben is innocent.
| My Review |
The world we knew is gone. The world of commerce and frivolous necessity has been replaced by a world of survival and responsibility. An epidemic of apocalyptic proportions has swept the globe causing the dead to rise and feed on the living. In a matter of months society has crumbled. no government, no grocery stores, no mail delivery, no cable TV. In a world ruled by the dead, we are forced to finally start living.
| My Review |
At once a Gothic thriller, a passionate romance, and a cautionary tale about the dangers of science, Frankenstein tells the story of committed science student Victor Frankenstein. Obsessed with discovering the cause of generation and life and bestowing animation upon lifeless matter, Frankenstein assembles a human being from stolen body parts but; upon bringing it to life, he recoils in horror at the creature's hideousness. Tormented by isolation and loneliness, the once-innocent creature turns to evil and unleashes a campaign of murderous revenge against his creator, Frankenstein.
| My Review |
Merricat Blackwood lives on the family estate with her sister Constance and her Uncle Julian. Not long ago there were seven Blackwoods—until a fatal dose of arsenic found its way into the sugar bowl one terrible night. Acquitted of the murders, Constance has returned home, where Merricat protects her from the curiosity and hostility of the villagers. Their days pass in happy isolation until cousin Charles appears. Only Merricat can see the danger, and she must act swiftly to keep Constance from his grasp.
| My Review |
Trigger Warning explores the masks we all wear and the people we are beneath them to reveal our vulnerabilities and our truest selves. Here is a rich cornucopia of horror and ghosts stories, science fiction and fairy tales, fabulism and poetry that explore the realm of experience and emotion. In "Adventure Story"–a thematic companion to The Ocean at the End of the Lane–Gaiman ponders death and the way people take their stories with them when they die. His social media experience "A Calendar of Tales" are short takes inspired by replies to fan tweets about the months of the year–stories of pirates and the March winds, an igloo made of books, and a Mother's Day card that portends disturbances in the universe. Gaiman offers his own ingenious spin on Sherlock Holmes in his award-nominated mystery tale "The Case of Death and Honey". And "Click-Clack the Rattlebag" explains the creaks and clatter we hear when we're all alone in the darkness.
| My Review |
It was just another day in the life of a small Atlantic resort until the terror from the deep came to prey on unwary holiday makers. The first sign of trouble a warning of what was to come took the form of a young woman's body, or what was left of it, washed up on the long, white stretch of beach. A summer of terror has begun.
| My Review |
The year is 2575, and two rival megacorporations are at war over a planet that's little more than an ice-covered speck at the edge of the universe. Too bad nobody thought to warn the people living on it. With enemy fire raining down on them, Kady and Ezra—who are barely even talking to each other—are forced to fight their way onto an evacuating fleet, with an enemy warship in hot pursuit.
| My Review |
Something strange is happening at the Orsk furniture superstore in Cleveland, Ohio. Every morning, employees arrive to find broken Kjerring bookshelves, shattered Glans water goblets, and smashed Liripip wardrobes. Sales are down, security cameras reveal nothing, and store managers are panicking. To unravel the mystery, three employees volunteer to work a nine-hour dusk-till-dawn shift. In the dead of the night, they'll patrol the empty showroom floor, investigate strange sights and sounds, and encounter horrors that defy the imagination.
| My Review |
Something is out there, something terrifying that must not be seen. One glimpse of it, and a person is driven to deadly violence. No one knows what it is or where it came from. Five years after it began, a handful of scattered survivors remains, including Malorie and her two young children. Living in an abandoned house near the river, she has dreamed of fleeing to a place where they might be safe. Now that the boy and girl are four, it's time to go, but the journey ahead will be terrifying: twenty miles downriver in a rowboat—blindfolded—with nothing to rely on but her wits and the children's trained ears. One wrong choice and they will die. Something is following them all the while, but is it man, animal, or monster?
| My Review |
Makani Young thought she'd left her dark past behind her in Hawaii, settling in with her grandmother in landlocked Nebraska. She's found new friends and has even started to fall for mysterious outsider Ollie Larsson. But her past isn't far behind. Then, one by one, the students of Osborne Hugh begin to die in a series of gruesome murders, each with increasingly grotesque flair. As the terror grows closer and her feelings for Ollie intensify, Makani is forced to confront her own dark secrets.
| My Review |
Coraline lives with her preoccupied parents in part of a huge old house–a house so huge that other people live in it, too… round, old former actresses Miss Spink and Miss Forcible and their aging Highland terriers ("We trod the boards, luvvy") and the mustachioed old man under the roof ("'The reason you cannot see the mouse circus,' said the man upstairs, 'is that the mice are not yet ready and rehearsed.'") Coraline contents herself for weeks with exploring the vast garden and grounds. But with a little rain she becomes bored–so bored that she begins to count everything blue (153), the windows (21), and the doors (14). And it is the 14th door that–sometimes blocked with a wall of bricks–opens up for Coraline into an entirely alternate universe.
| My Review |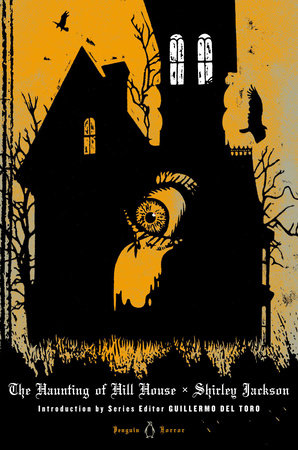 Four seekers arrive at a notoriously unfriendly pile called Hill House: Dr. Montague, an occult scholar looking for solid evidence of a "haunting"; Theodora, the lighthearted assistant; Eleanor, a friendless, fragile young woman well acquainted with poltergeists; and Luke, the future heir of Hill House. At first, their stay seems destined to be merely a spooky encounter with inexplicable phenomena. But Hill House is gathering its powers—and soon it will choose one of them to make its own.
| My Review |
Area X has been cut off from the rest of the world for decades. Nature has reclaimed the last vestiges of human civilization. The first expedition returned with reports of a pristine, Edenic landscape; the second expedition ended in mass suicide, the third in a hail of gunfire as its members turned on one another. The members of the eleventh expedition returned as shadows of their former selves, and within weeks, all had died of cancer. In Annihilation, we join the twelfth expedition.
| My Review |
Have you ready any of the creepy stories on this list?
What are some of your favorite spooky season reads?