How is it already almost Christmas!?!? Am I the only one who can't believe this?..
Ideally, as Christmas is only four days away, you've already finished your Christmas shopping and gift wrapping, everything nicely sitting underneath your tree right now. But in case you're scratching your head trying to figure out what the heck does this book nerd want for Christmas, I'm here save the holidays. Because as a bookworm myself, I have tons of bookish gift ideas that I wish friends and family would get for me.
*hint hint*
Just kidding, no one reads my blog. That's why I can say whatever I want.
Anyway, if you're not sure what to get your bookworm friend or family member or coworker, take some ideas from my list, because trust me: these things are on all of our lists.
20 Gift Ideas for Book Lovers
01. Books
I mean, honestly, this one should be a no-brainer. We always want books. We don't care how many unread books are on our shelves/desks/nightstands/floors right now, we will always want more books. If you're not sure which books to get them, maybe see if they have a Goodreads.com account with a handy-dandy TBR, or perhaps ask them what their favorite genre is.
02. Bookshelves
Another obvious choice: shelving and storage for all the books! Like I said, we tend to run out of storage space for our massive collections, and there are so many different ways to shelves books: standard bookshelves, floating shelves, coffee carts… You name it. We love it.
03. Bookends
And what better way to hold up our books on display than with bookish bookends! Or just bookends in general—they don't have to be book-related, as long as they hold up our books. I'm currently obsessed with this Little Prince bookend set!!
04. Book Subscription Boxes
So maybe instead of guessing which book to buy, you want to splurge and leave it up to someone else. That works, too! There are tons of subscription book boxes that any reader would love to get. Although I've only ever subscribed to OwlCrate (which is amazing, by the way), I do know of a few others that would be really great to receive: LitJoy Crate, The Bookish Box, Frostbeard Lit Box, Shelflove Crate, Illumicrate, Book of the Month, and Fairyloot. Definitely do some research into these to see which would be the best fit for your bookworm!
05. Bookstore Giftcards
Or maybe you want us to pick out our own books. I mean, that's pretty smart, too. We obviously know what we want. And who would pass up a trip to the bookstore? No one.
06. Apple Books/Audible Gift Card
Along those same lines, perhaps you have a digital book lover in your life. Though there are other ways to get eBooks and audiobooks, a lot of us use Apple Books or Audible to get our digital fix. Instant gratification.
07. eReader
eReaders can be expensive, but they're worth it. I've had a Kindle for over 5 years and it's still going strong. I'm a paperback gal for life, but sometimes you just need something to read now. And maybe you don't want it on your physical shelf, so you just slide it onto your digital one. Whether it's a Kindle, Nook, or iPad, you can't go wrong with an eReader. I mean, hello, you can read in the dark.
08. Book Lights
Okay, okay, yes. You can read paperback and hardback books in the dark, too. But you need a book light to do that. I've had rotten luck with the book lights I've purchased on Amazon, but those are just the little ones you can attach to your book. There are others, like ones that attach to the wall or sit on a nightstand. I need to try these other options. And so does the book lover you're trying to buy a gift for.
09. Book Sleeves
Readers have this rule they follow when they decide to finally leave the house: always bring a book. Always. And what better way to travel with a book than using a book sleeve? I have been obsessed with Book Beau for an eternity and have been dying to get my hands on one. I would cry if I got one of these for Christmas. Seriously.
10. Bookmarks / Book Weights
You wouldn't think we'd need more bookmarks, but trust me, we do. We can always use more, more, more. The cuter, the better. I'm also seeing a rise in the popularity of book weights, which I would happily accept in the form of a gift because I'm sick of using my phone to hold down the pages while I eat lunch! (Psst! Page Anchor is where I would go for book weights! And my favorite bookmark creator is 100% Fiction Tea!)
11. Bookish Posters/Prints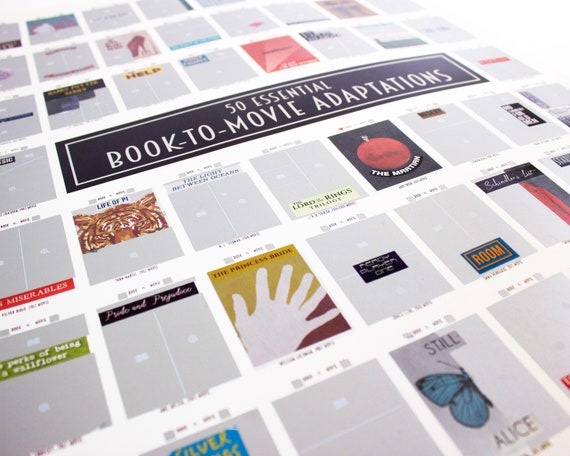 A book space is not complete without bookish decor. Let's start with posters and prints. These make great gifts! Especially these super fun scratch-off posters you're supposed to uncover as you read the book. I love that! Decor and fun, all in one!
12. Bookish Accessories
You can't go wrong with little knickknacks, either. I dream of decorating my shelves with little bookish accessories like Funkos, mugs, tote bags, pins, and more! I get a lot of mine from subscription boxes, but I also really like to shop on Out of Print.
13. Bookish Clothing
Let me also say that Out of Print also has amazing bookish clothing! Shirts, scarves, shoes, socks… You can't go wrong here. Local bookstores also tend to have great options for bookish clothes, as well!
14. Bookish Candles
If your book lover is also a candle lover, you're in luck: there are tons of bookish candles out there, just waiting to be burned through in less than a week. I'm partial to both Frostbeard Studio and Highland Bluff Studio. They both produce amazing scents, their candles are made from soy, and their bookish themes make me giddy with excitement!
15. Bookish Tea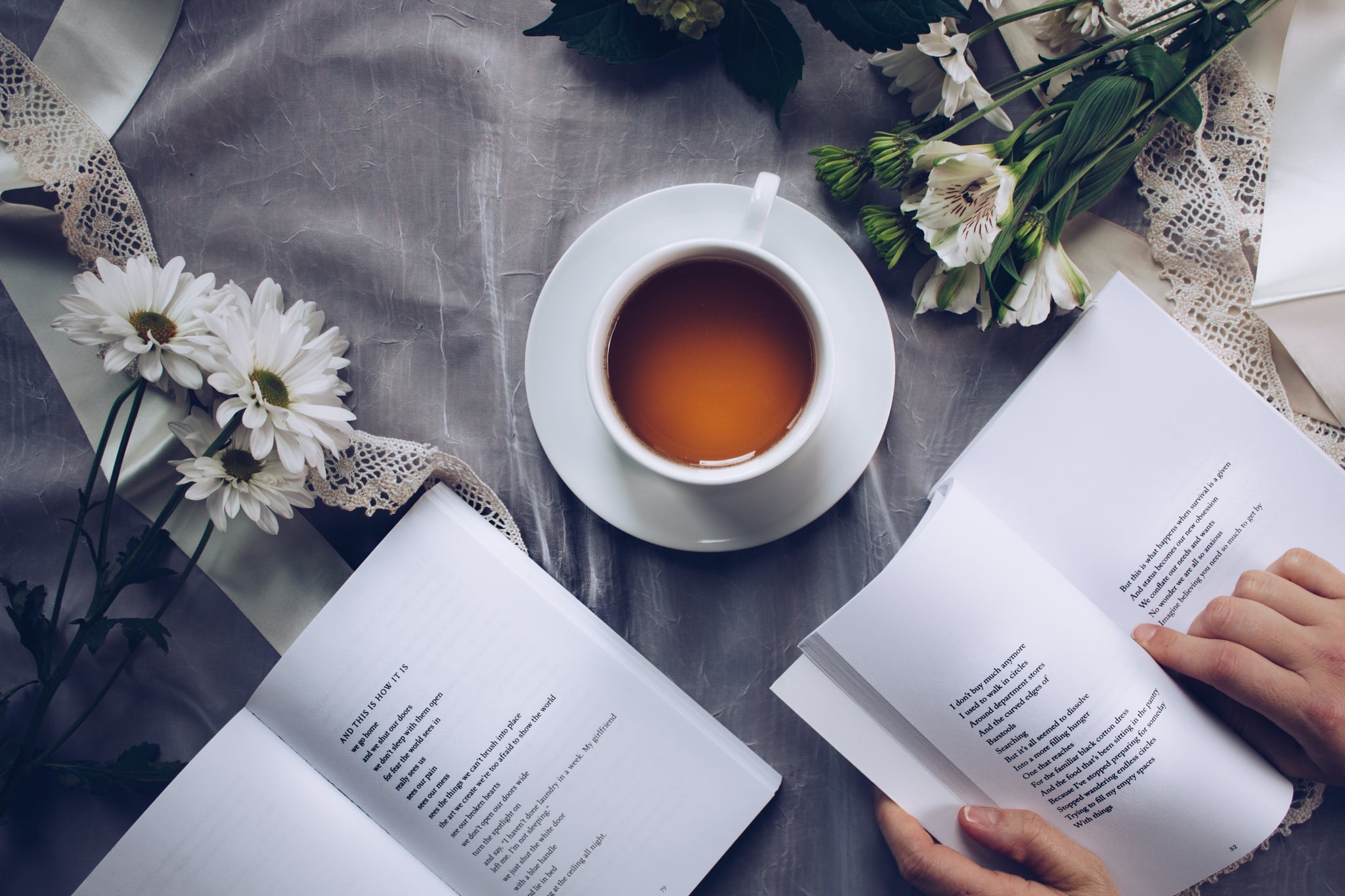 Another warm and fuzzy gift idea: bookish tea! Yes, they do make literary inspired teas. And though I'm not a tea drinker, I know many of us are and would love a good cup of bookish tea while reading.
16. Bath Caddy
Books. Candles. Tea. There's a specific location where all of these things combine to create the perfect atmosphere: the bath. And what better way to read in luxury that with a bath caddy. I am dying to get one of these. Right now I just risk my book's life every time I hop into the bath for a reading/relaxing sesh, but one day I'll have a bath caddy….
17. Bookish Cocktail Recipe Books
Whether you're a tea- or coffee-with-your-book person, we can all agree on one thing: booze. And yes, they do make literary inspired cocktails. Tequila Mockingbird, Cocktails for Book Lovers, and Are You There God? It's Me, Margarita are all excellent places to start.
18. Bookish Planners
This is something I just recently discovered and am beyond excited to try: bookish planners. Not book-themed planners, but actual planners to help you with your reading goals and track your reading!! I purchased Little Inkling Design's Always Fully Booked 2020 Planner and I literally cannot wait to use it. I will most likely post about it here in the next few weeks, so stay tuned. She's also got A Novel Companion and Book Review notebooks! These are a book lover's dream.
19. Anniversary/Special Edition Books
I've never purchased nor been gifted a special edition book, but I want to. Collectors editions, anniversary editions, editions with bonus content, special cover editions… They're a book nerd's fantasy, especially if they are into Bookstagramming (AKA Instagramming about books).
20. Book Convention/Author Tour Tickets
What better way to treat your book lover than with a bookish event? Maybe you know their favorite author is going on tour soon, or there's a book convention coming up—either way, both will get you major gift-giving points. Some popular book conventions: BookCon, BookExpo, ComicCon, and YALLfest.
---
Seriously, if you get your book nerd any of these things, they will love you forever. I promise. I'm already sending this list to everyone who knows me so they can stop asking, "What do you want for Christmas?" BOOKS.
Are you wishing for any of these items for Christmas? Which are you wanting the most?
And please share your own bookish wish lists or bookish gift ideas!
Merry (early) Christmas and Happy Holidays ❤