To All the Boys: P.S. I Still Love You
Motion Picture Rating: TV-14
Release Date: 2020
Director: Michael Fimognari
Runtime: 81 mins
Adapted From: P.S. I Still Love You
Lara Jean and Peter are together now. For real. And LJ feels like she's in a dream. But every time she experiences a 'first' with Peter, she can't help think about the fact that he's already had these firsts—with Gen. And then, suddenly, one of Lara Jean's past love interests, John Ambrose, comes back into her life, and Laura Jean can't deny she's curious about him… But, she loves Peter, doesn't she?
---
Alright, guys… Let's just cut to the chase:
Team Peter, or Team John?
Anyone who's read my book review already knows my stance. But I'll come back to that.
The second installment in the To All the Boys series is just as dramatic, romantic, and fun as you'd expect. If you loved the first film, you're bound to love the sequel. And if you're a loyal fan of the books, I have a feeling you'll adore the films despite any of the changes to the story. I mean, what's not to like? Especially since this movie has a certain new character to fall for…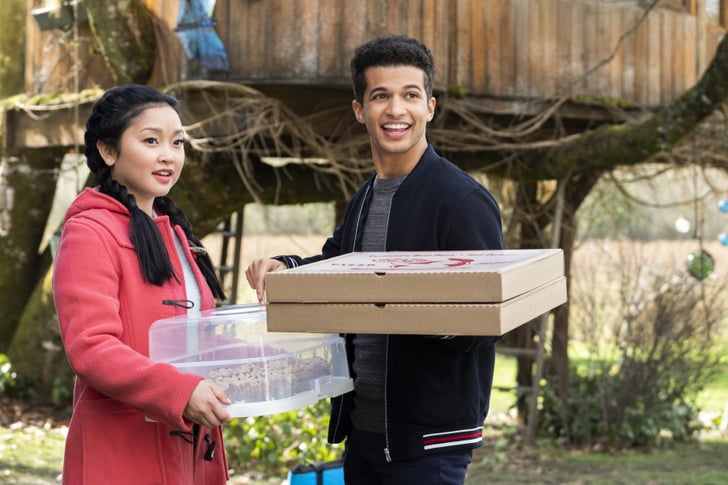 P.S. I Still Love You is all about Lara Jean and Peter's rocky start to their new relationship. Partly because Peter is a jerk, but also because of LJ's jealousy. And then there's John Ambrose, the boy Lara Jean used to crush on hard in middle school. And when she find out that crush was reciprocated (and still totally alive and well), well… Things get complicated.
Okay, so, like I said, there are differences between the books and films, but I don't think they really change the core story. Most of them, at least. The movie begins with Lara Jean and Peter going on their first real date. This does happen in the book (entirely differently), but a bit later. Book 2 has the aftermath of the hot tub video as well as LJ and Peter deciding to date for real. Netflix threw those events into the tail end of the first film. So I though that meant way more time to explore Lara Jean's friendship with John in the sequel. Right?
Wrong. The book really delves into Lara Jean's budding interest in John Ambrose. They exchange letters for a while before she invites him to town for the treehouse time capsule party. Then, everyone decides to play a tag-like game called Assassins, during which she and John see a lot more of each other. And then LJ finds out John is Stormy's great-grandson, so they wind up seeing each other at Belleveiw a lot, and even go to the USO ball together! And let's no forget the snow scene in the middle of the night that' so swoon-worthy I almost died. I mean, there's so much to explore with these two!
The films do not care about all this cuteness. Not at all. Lara Jean and John are not penpals. He's also not Stormy's great-grandson, but instead volunteers at Belleview with LJ. They do meet up at the treehouse, but the Assassins game is not a thing. And though they do host the Star Ball together an share a dance, it' also combined with the now scene, so is much shorter and less romantic. And then she kisses John, and she's like, 'eh, nope, you're not Peter,' and basically confirms this to John, breaking his heart and MINE.
So yeah, John really got the short end of the stick in the movie. And of course Peter is boosted to a higher level than in he book, because we wouldn't want anyone falling for John instead, right? Ugh. Peter is over-the-top romantic in this movie, even though he still fakes the poem and hurts Lara Jean by spending time with Gen and lying. Peter still comes across as more thoughtful and romantic in the movie. I really didn't care for him in he book. And even with all the enhancements in the film… Yep, I am an LJ+JA shipper. Team John 100%.
I mean, I won't lie, that scene with Peter showing up at Belleview in the movie was cute af. And I like Peer. He's jut not John…
Those were big chages. But still, I loved the movie. In the end, LJ still chose Peter. And at its heart, it's still the same story. There were a million small changes, like Josh not being in the movie at all, and Margot only via FaceTime, the Gen/LJ confrontation, the aquarium scene…. They matter, but not really. Enough for me to notice them, but not enough to make my feelings toward the move change.
So, yeah, if you haven't read the books, this will be the perfect romance film for you. If you love the books but can look past the changes, I think you'll really enjoy the movie. Give it a chance! It's still got the heart of he books. Lara Jean is perfectly cast, and the film really conveys LJ's teen drama mindset. It's so cute and teenager-y, it kills me (in the good way)! I love he cinematography of these films. Seriously, I can' get enough!
Movie #3 now, please?