Alina Starkov is a nobody. An orphan. A mapmaker in the First Army. But when she ventures into the Shadow Fold, a stretch of land covered in darkness and crawling with horrible monsters, she unleashes a dormant power to save her closest friend, Mal. She's a Grisha, a magical being, and one of the most powerful at that. She's sent to the royal court for training while simultaneously growing closer to the mysterious and alluring General Kirigan, perhaps the only Grisha more powerful than her.
Meanwhile, word of Alina's powers has spread, and dangerous people plot to capture her. Kaz and his Crows, Inej and Jesper, are in the market for dangerous heists – especially with a reward of one million kruge. But in order to capture Alina, they must first cross the Shadow Fold and infiltrate the royal palace. No easy task — but Kaz has his ways.
---
I binged Shadow and Bone as soon as I soon as I clocked out of work on its release day. I stayed up until 2AM watching the entire season, and it did not disappoint. I screech and screamed the whole way through it, and everything — the characters, the costumes, the sets, the dialogue, the atmosphere — made me want to cry. It was a lovely night. And here I am way way way down the road finally sharing my thoughts. I'm pretty embarrassed it took so long. I was in a reading slump after finishing my Grishaverse readathon, and I think that affected my blog and social media creation, too. So I'm sorry! But, at last, my long-awaited thoughts on the Shadow and Bone adaptation.
The cast for this adaptation is absolutely stellar. Like, bravo to whoever cast these actors because the cast is *chef's kiss*. I'm going to start with the main Shadow and Bone characters. Our Sun Summoner Alina Starkov is played by Jessie Mei Li.
In the books, Alina is Ravkan. But the adaptation made the decision to make Alina half-Shu with the casting of Jessie, and incorporated a lot of racial issues into the storyline. I didn't love Alina in the books, but I really found myself in love with Jessie's portrayal of her. She was stronger, braver, and far more clever in the show than the books, while still making a healthy amount of mistakes.
Archie Renaux played Mal, a character I detested in the books.
I disliked him from the start and never really shipped him with Alina, despite knowing she'd wind up with him in the end. He "finally sees" Alina once she discovers her powers and starts using them, causing her to lose her sickly, starved demeanor. Though he dislikes her powers, he likes her. I felt that was bullshit — I felt like he always saw her, could always see that she was into him, but instead kept her as a backup girl — a Plan B. Mister "I am become a blade" book-Mal is not my guy. But wowza did Archie transform this character. Mal is SO much more likable in the show. He actually treats Alina better, and he's very clearly into her — we get to see so much from his perspective that we don't get in the books, and girl is it good. I am a sucker for enemies-to-lovers, but show-Mal made me want to rekindle my love for friends-to-lovers. Honestly, just a brilliant portrayal. I am become a Mal stan.
Ben Barnes plays The Darkling, though in the show he is referred to as General Kirigan, and even his original name Aleksander (though don't get me started on the "call me Aleksander" bullshit).
This beautiful, handsome man somehow made me love The Darkling even MORE than I did when reading the books! Like I said, I'm a sucker for enemies-to-lovers, and I shipped Alina with The Darkling the entire series. It was tough to continue that ship while watching the show because of my newfound love for Mal, but it was still there. Ben was the perfect choice for The Darkling. My dumb ass thought he was a good guy for a while when reading Shadow and Bone, and Ben really does portray that sexy innocence perfectly. But he's also pretty scary when he shows his bad side. I thought I'd hate calling him General Kirigan, but it wasn't so bad, especially once you read King of Scars and discover that really was one of his aliases throughout his long life. But I couldn't get behind him telling Alina so early on his birth name. Just so randomly, flippantly, as if it's nbd. Ugh. Anyway, loved this portrayal. Cannot see anyone else playing The Darkling better than Ben Barnes played him.
I also want to mention Sujaya Dasgupta and Zoya.
Zoya doesn't have a huge role in the first season or the first book, but she does become a more prominent character later in the series and, of course, in the King of Scars series. So to me, she's always been a main character. Of course I hate Zoya in the first book, but because I know so much about her and her past and where she's going, I couldn't hate her while watching the adaptation. And Sujaya was spot on with this portrayal. She was fierce, beautiful, and clearly hiding behind some tall walls. I'm really excited to see her character grow and become more important later in the series.
As for the story itself, it was really, really well done. Many little things were changed, many things were added, but they were all done perfectly. Everything played out so well on the screen! The show's version of the story made Alina more of a badass, Mal more likeable, and The Darkling more complex. I loved that, as a fan of the books, I could scream at all the things I recognized, but simultaneously scream about all the new things added.
I think this show may be a little hard to get into if you're not already a fan of the books. The world is pretty expansive (7 books and counting), with so many different characters and powers and elements. It may feel a bit overwhelming just jumping into the show as a non-reader, but I still think it's doable. Just pay attention and don't let the little details bog you down. There's plenty of great action and romance to enjoy here.
Alina's story as "the chosen one" is the focal point of the Shadow and Bone series. After this series, Bardugo wrote Six of Crows, which occurs chronologically after the events of Shadow and Bone. The Crows are arguably the most interesting of Bardugo's character, and their story the most interesting. It's also the most well-written of the three series, in my opinion. The showrunners' decision to include the Crows in the Shadow and Bone series really paid off. At first, I was hesitant about it. I didn't want a made-up backstory for my Crows that I didn't read about. But their story arc really elevated the series to a new level. Like I said, the Crows are the absolute best characters, and I'm not sure how well the story would have played out on the screen without them. It wasn't perfect — some of it wasn't what I'd hoped for, and some of it didn't make sense. Like, if these guys crossed the literal Shadow Fold and faced off against the Darkling, why were they so nervous to do the Ice Court heist? Not that it was an easy heist, but still. I also hated seeing my Crows fail, when in the books they are so resourceful and almost always come out on top. Good learning experience, I guess, but still.
Despite these little nitpicky opinions of mine, I did love their inclusion in the show. Jesper was everything I'd hoped for and more. The spark of romantic tension between Kaz and Inej was palpable. Even Matthias and Nina had their origin story included, which I think many people disliked but I actually thought was done very well. Don't hate on them, please! They are still Crows! And of course, the casting for these Crows was just as perfect.
Kit Young as Jesper, Amita Suman as Inej, and Freddy Carter as Kaz. No other actors could have played these characters. These three were absolute perfection and exactly as I pictured the characters while reading. Jesper was hilarious, Inej was serious, and Kaz terrifying (yet attractive).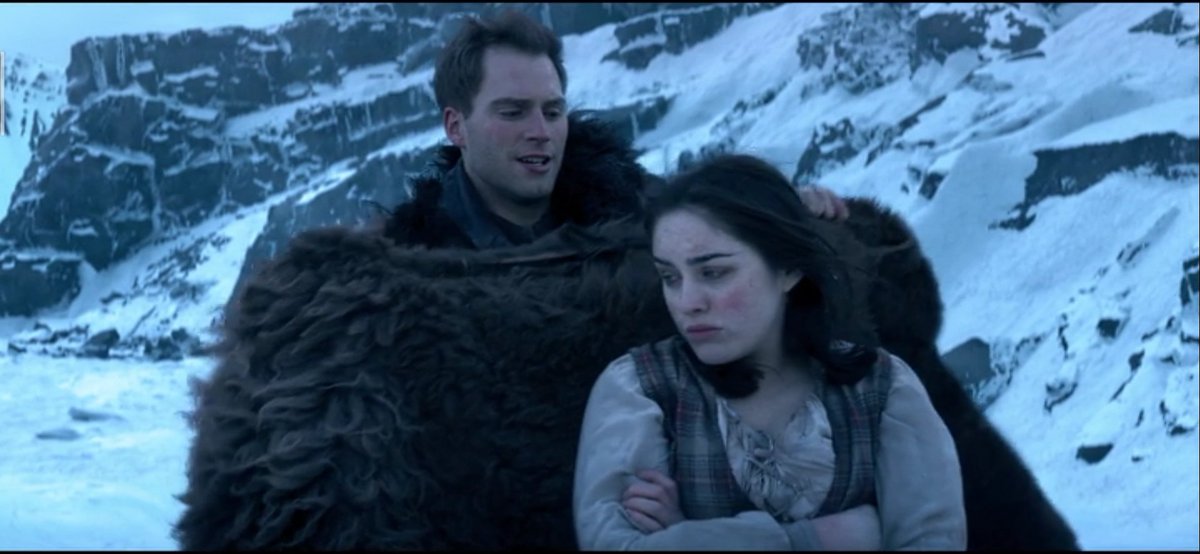 Calahan Skogman played Matthias, and Danielle Galligan played Nina. Honestly, I didn't picture these two looking like this at all. Well, maybe Matthias a little bit. But Nina was nothing like I pictured in my head. However, both actors portrayed the characters fantastically. They truly captivated me in the small amount of screen time they received, and I loved them.
It's kind of amazing that I managed to finish writing this, especially just days after it was announced the show was renewed for Season 2! I have no idea how (or if) the Crows will fit into S2, but I'm excited nonetheless. I cannot wait to see Tolya and Tamar, and of course the much-awaited Nikolai. This show translates onto screen so well, and I loved every second of it. This was probably more fangirling than review — sorry.
Book or Show?
This was TOUGH to decide. While I loved the book, the show really did improve upon it. Even without the Crows storyline, the things they added and changed to the Shadow and Bone aspects were perfect and much needed. The book does have a place in my heart, but the show really outdid it and more. Cannot wait for S2.