Top Ten Tuesday was created by The Broke and the Bookish in June of 2010 and was moved to That Artsy Reader Girl in January of 2018. It was born of a love of lists, a love of books, and a desire to bring bookish friends together. Each week, she will post a new Top Ten list topic for everyone to weigh-in on. Link back to That Artsy Reader Girl on your own Top Ten Tuesday post AND add your name to the Linky widget so that everyone can check out other bloggers' lists!
This Week
Books On My Summer 2021 TBR (or winter, if you live in the southern hemisphere)
I do not stick to TBRs. Ever. Do I make them? Yes. Do I try to follow them? Kind of. But do I? No. And that is 100% okay. I still think they're fun. I set my reading goal fairly low this year, intending to focus on classics like Moby Dick and Anna Karenina. But that didn't really happen. I cannot stop myself from reading YA and new releases. So anyway, take this TBR with a grain of salt. I'm 100% going to veer away from it, but here are 10 books I'd like to read this summer.
---
1. Yearbook by Seth Rogen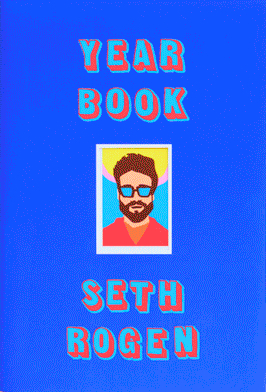 I've got this audiobook on hold and I'm so excited to listen to it. I have always loved Seth Rogen and am excited to read about his life and experiences, especially with such a great cast of narrators.
2. Mind the Gap, Dash & Lily by Rachel Cohn and David Levithan
I'm not super invested in this series. I actually really enjoyed the Netflix adaptation of it more than I did the book. The only reason I read the sequel, and will be reading book 3, is just in case the Netflix series continues. I've been on a wait list on Libby for a long time — not because it's taken, but because I keep extending the hold because I don't want to read it that badly 🙂
3. Small Favors by Erin A. Craig
I am SO excited for this to come out in July! I adored House of Salt and Sorrows and can't wait to read this beautiful book. I know it's going to be just as good.
4. Carry On by Rainbow Rowell
I've already read Carry On on audiobook, but I adored it so much that I bought the new hardcover copy and will be re-reading before book 3 comes out. I am very excited. I just have to wait for it to get here…
5. Wayward Son by Rainbow Rowell
I also read Wayward Son on audiobook, so same as above — going to re-read in preparation for the finale!
6. Any Way the Wind Blows by Rainbow Rowell
So yes, of course, the finale. I don't know if I'm ready for it (I'm not), but I know it's going to destroy me no matter what happens.
7. Slaughterhouse-Five: The Graphic Novel by Ryan North
I love Vonegut's Slaughterhouse-Five. It's probably my favorite of his works that I've read (so far). I also love Ryan North. I own two of his Shakespeare choose-your-own-adventure books and they are extremely entertaining. So when my company picked Ryan North's graphic novel adaptation of Slaughterhouse-Five, I knew I needed to read it. Also, my fiancée is a huge Vonegut fan, so it's a win-win (she really liked it).
8. Ready Player One by Ernest Cline
Another re-read! RPT is on my TBR cart, but I haven't read RPO in sooooo long that I need to re-read it before diving in to its sequel.
9. Ready Player Two by Ernest Cline
I don't think RPO needed a sequel. I have no idea what this book is going to be about, nor do I know if I'll like it or not. So I guess…we'll see?
10. The Midnight Library by Matt Haig
I heard so much about this book at work, on TikTok, on Instagram… so I impulse bought it. I'm hoping it's as fantastic as everyone says it is!
---
Do you make TBRs? If so, do you stick to them? Share some of your summer (or winter) TBR books in the Comments, and feel free to share your links so I can check out your TTT post! Have a great Tuesday 🙂