Is anyone else still processing 2020 and unable to comprehend that we're about to be in the year 2022?
Usually I am bored to tears by the end of the year, so I'm still reading a lot of books and I have plenty of time to write my end of year recap posts. This year, though, I've been slammed with work and family and plans and I can barely stay awake later than 7PM. Christmas didn't really feel like Christmas. New Years is my favorite holiday and I'm honestly not really looking forward to it. I'm not ready for 2022. I'm not ready for January's responsibilities. I just want to take a very long nap.
Okay, rant over. What you're really here for: my favorite books of 2021. I managed to read a nice, even 60 books this year and I'm not mad about it. Here are my top ten. If you haven't read them yet and they're not on your TBR, what are you waiting for?
---
Top 10 2021 Reads
1. The Raven King by Maggie Stiefvater (The Raven Cycle, #4)
I started reading this series at the end of 2020 and finished it early 2021. Thought my love for Blue Lily, Lily Blue is strong, I had to choose the last book, The Raven King, for my list of favorites. That moment towards the end of the book was worth the entire series, okay? I wasn't ready to say goodbye to these characters, but I'm so happy my friend Heather recommended the series to me and I'll forever love it.
2. Six of Crows by Leigh Bardugo (Six of Crows, #1)
This year I went on a Leigh Bardugo reading spree. I read all the Grishaverse books (the Shadow and Bone trilogy, the Six of Crows duology, and the King of Scars duology), and out of all of them, Six of Crows came out on top. It's honestly just a masterpiece. I'm not usually fond of heist books, but this one was incredibly interesting and fun to read. I fell for all the characters and boy did it fuel my love for the found family trope. *chef's kiss*
3. Today Tonight Tomorrow by Rachel Lynn Solomon
Random standalone YA romances usually don't make my top 10 lists. I read them for fun and they're usually middle-of-the-road for me. But this one actually surprised me with how much I enjoyed reading it. A bit enemies to lovers with a city-wide scavenger hunt? Sign me up.
4. Carry On by Rainbow Rowell (Simon Snow, #1)
Yes, this is a reread. Yes, it was on my top 10 list last year. And no, I don't care. I will forever stan this series and ship Snowbaz. Rereading it was just as fun as when I first listened to it on audiobook last year, only this time I read the physical book and now it sits beautifully on my bookshelf.
5. Yearbook by Seth Rogen
A nonfiction title on my top 10 list????? I'm as shocked as you are, friends. I wouldn't call myself a superfan of Seth Rogen, but I do love him and have enjoyed many of his movies. I was excited to listen to his memoir Yearbook because Seth narrated it himself, so I knew it'd be a good time. And it was. If you like Seth, highly recommend the audiobook. This one was a welcome surprise.
6. The Anthropocene Reviewed by John Green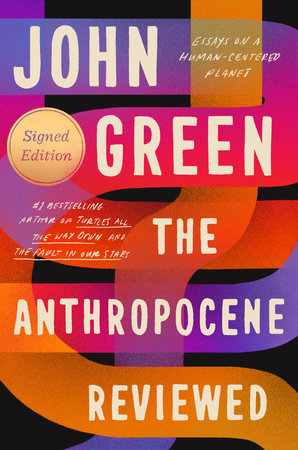 And another nonfiction book??? But it's by John Green, so none of you should be surprised. I am a John Green superfan, so you know I had to get my hands on this one. I've listened to many episodes of his podcast of the same name, so I knew what I was getting into. This book is beautiful, emotional, and powerful—and it is perfection. Is this in the running for favorite book of 2021????? Yes, it is.
7. Rules for Vanishing by Kate Alice Marshall
This was another surprise favorite and was also recommended by Heather. Coincidence? No. Heather only recommends the best of the best, obviously. I read this for spooky season, and for YA, it's definitely spooky and fit the vibe. It was like of like Silent Hill crossed with The Blair Witch Project. I really enjoyed it! I think a sequel is coming out soon and you know I'll be reading it.
8. The Unhoneymooners by Christina Lauren
Another surprise! (Are you sick of me saying that yet?) TikTok recommended this one to me and it did not disappoint. It was exactly the fun enemies to lovers romance I needed after my spooky readathon. It's a lot of fun and a great fluff read, so if you like romance, this is the one to read next.
9. The Seven Husbands of Evelyn Hugo by Taylor Jenkins Reid
This one hit harder than I expected it to. Like I knew I'd enjoy it because it's Taylor Jenkins Reid, but I didn't think I'd be able to relate so hard. Evelyn Hugo is one of the most interesting fictional characters I read about this year and I adore her.
10. Aurora's End by Amie Kaufman and Jay Kristoff (The Aurora Cycle, #3)
Now THIS book is also in the running for best of 2021. Not only was it an intense conclusion to a great series, and not only was it fast-paced and ridiculously interesting and everything I've ever needed, BUT I also buddy-read it with Heather, which made for the absolute best reading experience of my life. We read at about the same pace so we were able to react to everything together via messages and it was hilarious. I fully believe this book wouldn't have been as good without the buddy experience. This was such a crazy book.
---
So there you have it! My favorite reads of the year. These are in no particular order and I haven't decided which was my absolute #1 favorite of the year, but they're all worth contenders. Definitely look into these for your 2022 TBR! And stay tuned for my last favorite reads post tomorrow.